Welcome to the Idaho Cutting Horse Association
2019 ICHA FUTURITY & LAE,
including the 2nd leg of the WAY OUT WEST Series

AUGUST 24th – SEPTEMBER 1st, 2019!
Entries due August 19th!
Late fees will apply after due date. 1st go of 4 Open and 5/6 Open will be drawn Thursday 8/22.
NO phone or text entries please.
PLEASE NOTE that Ford Idaho Horse Park phones are down and they are working to bring back online as soon as possible.
Also more importantly than that -
Friday fresh practice will start 8 am not 10!
It will be drawn late afternoon and posted on website and FB
IMPORTANT NOTICE: For competitors and exhibitors importing livestock into Idaho for shows & rodeos, please be aware that the Idaho State Dept of Agriculture (ISDA) requires an entry permit for horses and cattle travelling from a state that has confirmed cases of Vesicular Stomatitis Virus (VSV). As of August 9, 2019, the states of Colorado, New Mexico, Oklahoma, Texas and Wyoming have confirmed cases of VSV. All shipments of livestock into Idaho originating from one of these five states must include a VS statement written on the health certificate/CVI stating "the animals in this shipment have originated from a premises that has not had a confirmed case of VSV in the last 30 days". The veterinarian writing the CVI in the state of origin is who must request the entry permit from ISDA. Please click here to view the current Vesicular Stomatitis Virus (VSV) report.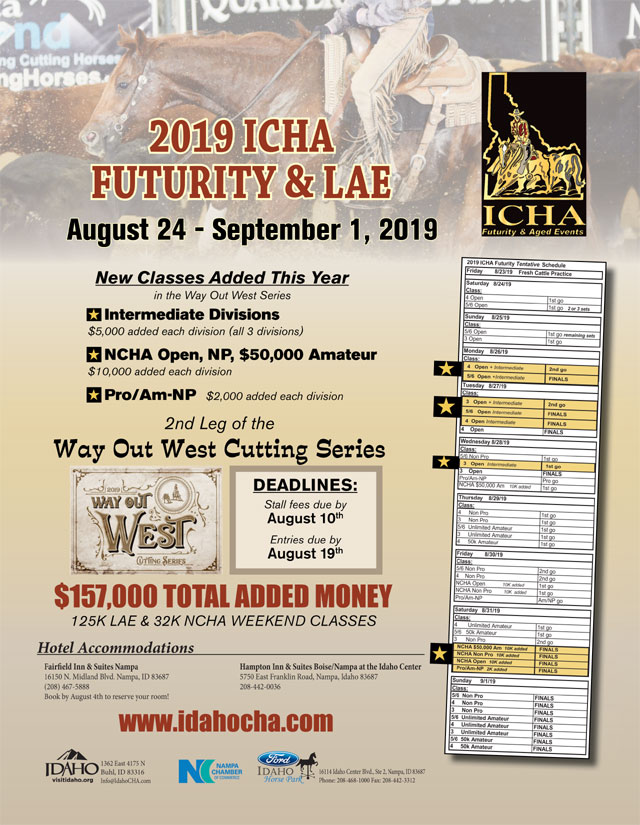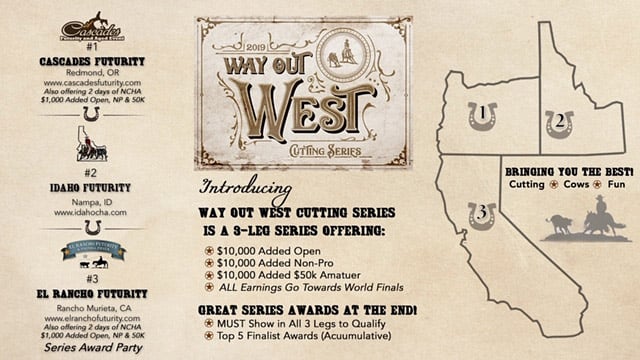 Announcing the Idaho Challenger series!
First leg will be 3/24/2019 at the Ford Horse park at our spring show. The second leg will probably be at the BVCH in July.
Offered for the 15am and the 35np classes, Vests to the top 3 money earners for each go. Buckles to the highest money earners for the series. Must show in both goes.
---
News from the NCHA - NCHA is offering a FREE NCHA membership. This membership is open to any competitor who has not been a NCHA member before or in the last three years. Visit nchacutting.com to sign up.
---
---
Find all of your great photos from Laurie Errington, Scootemnshootem Photography: www.scootemnshootem.photoreflect.com